Holiday Naxos
A little about some of the beaches on Naxos
Naxos is well known for its wonderful beaches, some with advantageous winds for prime windsurfing and kitesurfing. Most of the Island's West coast is one long sandy beach with crystal clear azure water, the most popular areas of which are Agios Prokopios, Agia Anna, Plaka and Mikri Vigla.
Agios Georgios
The beach of Agios Georgios or what the tourists call Saint George, is the main tourist area of the island and despite the number of hotels, restaurants, bars and tourist shops it is a very enjoyable place to be, if you like windsurfing, water-sports, people watching and if you have children because the sea is very shallow. For wind-surfers the far end of Saint George Bay is a center for the sport with several rental shops. Because of the northeastern and northern winds Naxos is known as one of the best places in Greece for windsurfing.
Agios Prokopios & Agia Anna
The beaches of Agios Prokopis and Agia Anna are a little quieter but also very popular and there are rows of umbrellas and beach chairs that you can rent. These beaches though crowded in places are long enough so you can always find somewhere semi-private. These two beaches are considered by many to be the most beautiful in Greece with clear turquoise water that makes every picture you take look like a postcard or an advertisement for a Caribbean holiday. There are plenty of seafood tavernas, cafes, bars, restaurants and a couple nightclubs on the beach so people staying in this area can have their share of nightlife without going to Naxos town. However should they want to, Naxos and the port are a five minute drive and there are frequent buses and Taxis.
Plaka
Further on, the beach at Plaka is considered by others to be the best beach on the island with about five kilometers of golden sand. Still very natural and undisturbed in the South, but as you move North you will find the opportunity to hire sunbeds and parasols. There are plenty of bars and restaurants open all day long.
Mikri Vigla
A famous windsurfing and kitesurfing beach, which surfers will travel to year after year. Fantastic sand and water and great opportunities to grapple with the wind and sea. Is located at the end of Plaka Beach, only 11 km from Naxos Town. One of our houses - CASA MAGNIFICA is just 70 meters from this beach!
Further down the coast is the beach of Kastraki, rated the cleanest in the Aegean and over six kilometers long. Beyond that are Pyrgaki a long sandy beach and Agiassos. The town of Apollonos (photo), on the far northern tip of the island has a large sandy cove and some restaurants and hotels and the feel of being on another island altogether. There are several beaches on the east coast, some of which should be visited by 4-wheel drive vehicles. If you come down the northeast coast from Apollonos there are beaches at the end of many of the dirt roads that lead off the main road. Look for signs. Keep in mind that beaches facing north get a lot of wind and often have waves.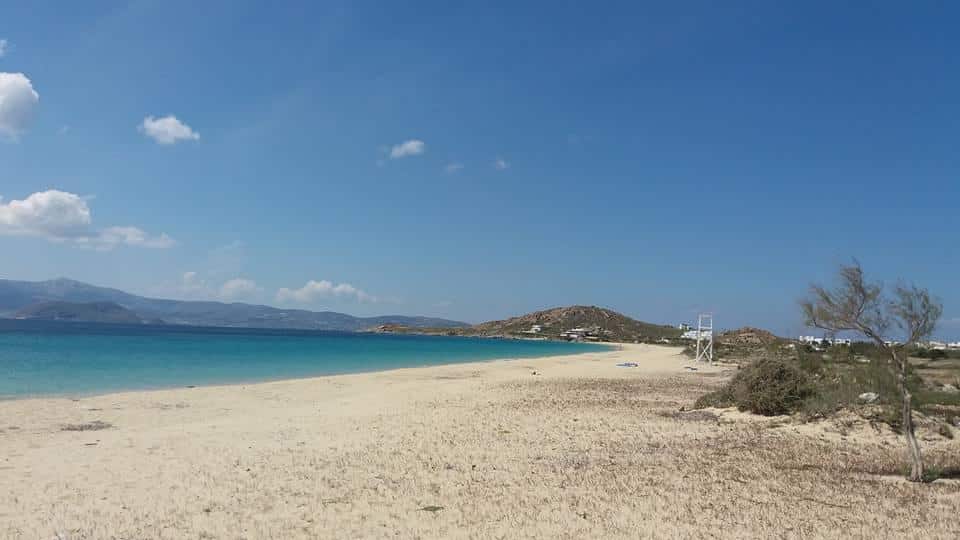 Many of Naxos beaches have been given the Blue Flag award by the EU.